International Mineral Property Valuation Standards Template 2018 Edition
The International Mineral Valuation Committee (IMVAL) was formed following VALMIN Seminars in October 2011 in Perth and April 2012 in Brisbane. IMVAL Members are VALMIN, SAMVAL of Southern Africa, CIMVal of Canada, SME of USA, and International Institute of Minerals Appraisers, with a number of other organisations as Observers.

IMVAL was formed to fulfil a perceived need for an international template or standard for mineral property valuation which could be adopted by national mineral valuation organisations and used by other interested parties. The first and second editions of the IMVAL Template were released in 2016 and the third edition in June 2018. Terms of Reference for the IMVAL Committee were developed in 2017.

The IMVAL Template is intended as a principles-based document to be recognised as a common set of minimum requirements for national codes or standards for valuation of mineral properties. It is based on common features of the VALMIN Code, the SAMVAL Code, and the CIMVal Standards and Guidelines, and aligns with the International Valuation Standards.

The Template contains sections on Requirements, which include principles, resources and reserves, valuation approaches, and reporting; Guidance; and Definitions. The IMVAL Template deals with valuation, which addresses the estimation of the value of a mineral property, as distinct from evaluation, which addresses the broader assessment of a mineral property for an investment decision.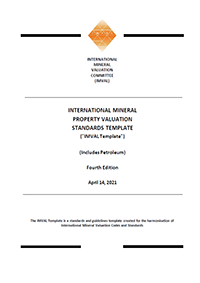 The IMVAL Template 2021 is available here, PDF 256 KB.